Saint-Tropez ligger i den sørvestlige delen av den Franske Riviera. Kjøretiden fra flyplassen i Nice er i beste fall litt under to timer.
Det er også mulig å ta turen i helikopter på ca. 15-20 minutter, og det er helt riktig transporttype til de rikes lekeplass, Saint-Tropez.
I havnen ligger de mest luksuriøse lystbåtene tett på hverandre, og i den gamle bydelen ligger alle de kjente motehusene ved siden av hverandre i den gamle bydelen. Hotellene er naturligvis generelt også av høy standard.
De som kommer og besøker byen, går ofte en tur i den flotte gamle bydelen, besøker det imponerende markedet og nyter livet på en av de mange kafeene ved havnen.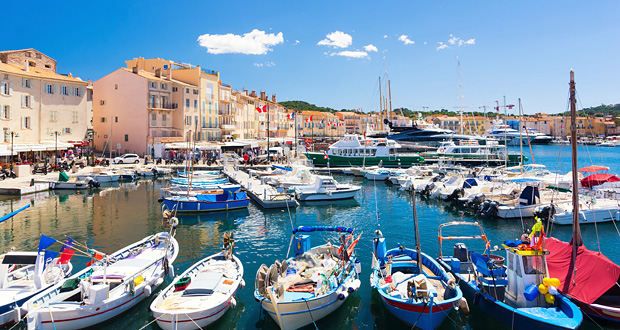 Strender ved Saint-Tropez
Det ligger en liten sandstrand i utkanten av Saint-Tropez, men nesten alle drar til stranden noen kilometer sørøst for Saint-Tropez.
Det er både private og offentlige sandstrender her. Det er mange strandbarer og restauranter, og det er mulig å prøve en lang rekke vannsportsaktiviteter. Den mest berømte stranden er Plage de Pampelonne.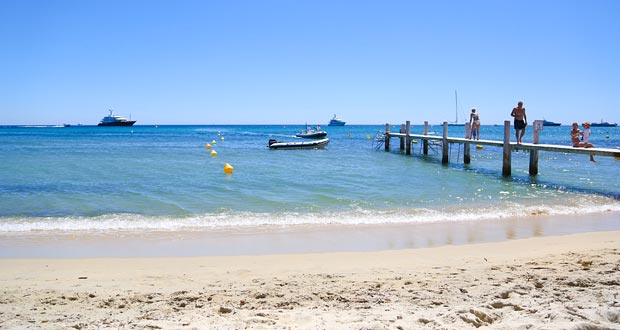 Restauranter og natteliv
Byens størrelse tatt i betragtning, så ligger det mange gode restauranter i Saint-Tropez. Den beste av dem alle er restauranten på hotellet La Pinède, som fikk sin tredje Michelin-stjerne i 2013.
Det er mange andre gode, og mindre eksklusive restauranter og kafeer i byen. To av dem er Le Sporting og Brasserie des Arts. På sistnevnte blir det mer og mer livlig jo senere det blir på kvelden.
Med det hyppige besøket fra internasjonale jetsettere, er det naturligvis mange gode barer og nattklubber i Saint-Tropez. De ligger delvis i byen og delvis ute ved strendene mot sørøst. Baren White 1921 eies av ingen ringere enn Louis Vuitton, mens Les Caves du Roy er en av Frankrigs mest berømte nattklubber. Her møtes de kjente og berømte.
Severdigheter og aktiviteter
For såkalte vanlige folk er Saint-Tropez nermest en severdighet i seg selv, og de fleste kommer også bare for å oppleve byen. Husk å ta en tur på markedet og i den gamle bydelens trange gater.
Fra fortet Citadelle de Saint-Tropez, som ligger litt øst for byen, er det en fantastisk utsigt ut over byen. Det sekskantede fortet ble bygget omkring år 1600, og huser i dag blant annet et maritimt museum.
Saint-Tropez kart